OSFI Announcement on Stress Test
Date Posted: December 15, 2022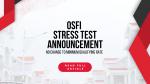 The Office of the Superintendent of Financial Institutions (OSFI) made an announcement this morning on the Minimum Qualifying Rate (MQR) for uninsured mortgages as an outcome of its annual review. Uninsured mortgages are residential mortgages with a down payment of 20 per cent or more.
OSFI announced that the minimum qualifying rate (MQR) for uninsured mortgages will remain the greater of the mortgage contract rate plus 2 per cent or 5.25 per cent, which had been previously announced in June 2021.
With the Bank of Canada's recent increase of 50 points to the target overnight rate to 4.25% on December 7, mortgages are being tested at much higher rates than the MQR. This also means that with any future rate increases, mortgages will be tested at even higher rates than the MQR.
With ongoing rate increases and an economy with high rates of inflation, borrowers are required to pass the "stress test" meaning they will need to qualify for a mortgage at the current posted rate + 2%, approximately 6% - 7%. Although this protects borrowers against future rate increases, it also tightens the criteria to be approved and thus diminishing the number of people who can qualify for a mortgage.
Mortgage Professionals Canada, an Association made up of Mortgage Agents and Brokers from across Canada has been lobbying for a review of the practice of applying the stress test to renewals and mortgage transfers. The current rules reduce competition and potentially leave mortgage holders in a vulnerable position of having to remain with their current lender at maturity. OSFI has indicated that they will begin the review process on this topic and similar underwriting policies in January of 2023, they expect the review process will take several months.
Read the full press release from OSFI here.
For more information on your mortgage, contact your broker