Open House - The Real Estate & Mortgage Show: October 16th 2023
Date Posted: October 16, 2023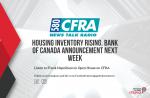 Statistics have shown that housing inventory has risen over the past month while sales have been slower. Some experts are predicting sales to continue to be slow for the remainder of 2023 with hopes of it picking up again in 2024. Interest rates remain high but we've managed to avoid any further increases, and now we are hoping to see interest rates begin to come down in the following months to come.
To listen to the latest full episode, click here.
Contact your Mortgage Broker today for trusted advice.