Open House - The Real Estate & Mortgage Show: October 10th 2023
Date Posted: October 10, 2023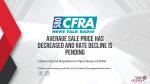 Average sale price has decreased the past month in comparison with October 2022 and mortgage rates have remained the same over the past couple of months. With the next Bank of Canada announcement on October 25th - we can only hope for rates to decrease.
To listen to the latest full episode, click here.
Contact your Mortgage Broker today for trusted advice.