Open House - The Real Estate & Mortgage Show: May 9th, 2022
Date Posted: May 9, 2022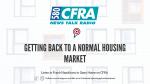 As spring 2022 takes off we are beginning to see more of a normal housing market. House prices are still climbing slowly, however number of sales are down in comparison to last year. With comparing to last year, we are seeing a lot of change but comparing to a normal market pre-pandemic, we are starting to see a bit of normalcy and regular trends are beginning to come back.
Traditionally it was in the sellers' best interest to make their home show-ready before selling. Over the pandemic that was less of a factor as homes were selling no matter what the condition of the house. Now, we see we are falling back to the regular market and homes that show better are tending to get more attention.
Looking at politics and the upcoming elections, we can expect some parties to mention changes for the housing market in their campaigns. After mortgage industry events over the past week, we've heard concerns of the Ontario market, and in particular Toronto. With young Canadians unable to afford to buy any houses and turning to other cities to buy, concerns for Toronto becoming an elderly dominated city are growing.
To hear the full podcast; click here
Contact your Mortgage Broker today for trusted advice