Open House - The Real Estate & Mortgage Show: July 18th, 2022
Date Posted: July 18, 2022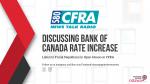 A big change came to the mortgage industry last week when the Bank of Canada decided to increase the prime rate by a full percentage to a new rate of 2.5%. This came as a shock to most people as they were predicting only a .75% increase.
This brings buyers and sellers a new challenge as it will make qualifying for a home that much more difficult. There are now only a few lenders that can provide people with rates under 5%. Only a few can offer rates around 4.79% which is now beginning to look like a good deal in comparison to other rates in the industry now.
With talks of a global recession happening next year – people are now wondering what the best decision is between a fixed rate and variable rate. The important information you need to know now is that if a recession does happen and you are on a fixed rate, you will be charged a penalty to match the difference in the rate. If rates drop a significant amount, the penalty amount will be a such that you would still be paying the same amount of the rate that you're at. If you are on a variable rate there is a chance that your payments could end up being lower if the rates do drop.
If you are uncertain or want more information, always reach out to a mortgage agent or broker and they can provide you with the best advice to suit your specific situation.
To hear the full podcast; click here
Contact your Mortgage Broker today for trusted advice