Inflation Trends Offer Financial Respite for Mortgage Holders in Canada
Date Posted: October 19, 2023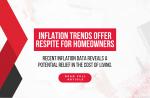 For current homeowners in Canada who are diligently paying off their mortgages, the recent inflation data brings some promising insights. In September, the headline Consumer Price Index (CPI) revealed a decline in the inflation rate, with prices increasing by 3.8%, down from the 4% recorded in August. This decrease can have positive implications for those who are managing mortgage payments.
Crucially, core inflation measures, which are closely monitored, displayed a slowing trend. The CPI-trim decreased to 3.7% year-over-year, and the CPI-median dropped to 3.8%. These figures signify the slowest pace of inflation in 31 months, indicating potential financial relief for current homeowners who have mortgages to service.
As we look ahead to October, experts anticipate that headline inflation may drop further due to favorable base effects. Gasoline prices have seen a reduction of about 7% this month, which suggests that October's CPI might show a notable decrease. This can be particularly beneficial for those with existing mortgages as it could ease the cost of living.
One of the significant components contributing to inflation is shelter costs, which have been on the rise. However, it's important to note that the increase has primarily been driven by rent prices. For current homeowners who have transitioned from renting to owning, understanding the dynamics of shelter costs can be insightful for budgeting and long-term financial planning.
Additionally, while the per capita index shows a substantial increase in shelter costs, the actual mortgage interest costs have risen over 80% since the Bank of Canada began raising interest rates. This underscores the importance of carefully managing mortgage terms and considering refinancing options to potentially lower your mortgage interest costs.
In summary, the recent inflation trends in Canada bring potential benefits for current homeowners who are managing mortgages. With a possible easing of inflation and a more stable financial environment, servicing mortgage payments may become more manageable and affordable, offering some financial respite to those with homeownership responsibilities. This also shows early signs of light for those waiting on the sidelines to get into the housing market as we can anticipate interest rates to begin to decline in the near future.
Stay up to date with the latest news, information and tips with Mortgage Brokers Ottawa.
Follow us on social media!