CTV Morning Live: Mortgage Minute- Sept 10, 2019
Date Posted: September 11, 2019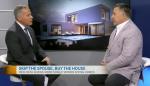 Next to married couples, single women are leading the charge in home buying statistics. Two major factors to consider when purchasing a home, especially as an individual, credit and income.
Check out this segment of Mortgage Minute on CTV's Morning Live.
Looking to purchase a home? Contact your Mortgage Broker today.