CMHC Rule Changes UPDATE
Date Posted: June 9, 2020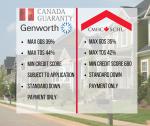 Great News today for home buyers with dual announcements from Genworth and Canada Guaranty!
Contrary to the recent changes CMHC announced on Friday June 5th, 2020 regarding the tightening of their underwriting criteria, both Genworth and Canada Guaranty have confirmed they will not be making the same changes to their underwriting processes.
This is great news for Canadians looking to purchase a home, as now they know they have options when it comes to buying a home.
To read the Canada Guaranty News Release, click here:
To read the full Genworth News Release, click here: