Bank of Canada Rate Increase - April 13 2022
Date Posted: April 13, 2022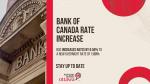 The Bank of Canada today increased its target for the overnight rate to 1%. The Bank is also ending reinvestment and will begin quantitative tightening effective April 25. Maturing Government of Canada bonds on the Bank's balance sheet will no longer be replaced and, as a result, the size of the balance sheet will decline over time.
The bank's rate impacts Canadian businesses and consumers by influencing the rates they pay and receive on things like mortgages, GICs and savings accounts.
While the move helped the economy to weather the unprecedented uncertainty of COVID-19, in recent months, inflation has come roaring back to its highest level in decades, prompting the central bank to start unwinding all that cheap credit.
The Bank forecasts Canada's economy will grow by 4¼% this year before slowing to 3¼% in 2023. Economists were expecting the move, and with inflation flirting with six per cent, they expect more to come, at least until the central bank's rate gets up to two per cent — and possibly beyond.
Russia's ongoing invasion of Ukraine is causing spikes in prices in various industries and are putting disruptions on supplies around the world. These factors are the primary drivers of a substantial upward revision to the Bank's outlook for inflation in Canada.

As most economies are emerging from the impact of the Omicron variant of COVID-19, the war in Ukraine is putting a dampen on the recovery time worldwide. China's economy is facing new COVID outbreaks and ongoing correction to its property market. In the US they have indicated its resolve to use monetary policy tools to control inflation.

In Canada, growth is strong, and the economy is moving into excess demand. Growth has been stronger in the first quarter than projected in January and is likely to pick up in the second quarter. Consumer spending is strengthening, exports and business investment will continue to recover, and housing market activity is expected to moderate.
To read the full announcement click here.
Contact your Mortgage Broker today for trusted advice.