Bank of Canada keeps key interest rate at 0.5%
Date Posted: March 11, 2016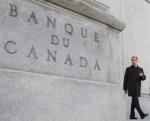 As most economists expected, the central bank kept its benchmark target for the overnight rate at 0.5 percent. In a statement released by the bank, "the near-term outlook for the economy remains broadly the same as in January".
The benchmark interest rate has quite an impact on consumers across the country, directly affecting businesses as well as it affects the cost of borrowing and the rate of return that savers get on their capital.
In an effort to stimulate the economy, the Bank of Canada cut its rate twice in 2015. The economy took a hit due to the sluggish oil industry and drop of oil prices. The Bank's forecasted growth in our economy was also revised from 2% to 1.4%.
Governor Stephen Poloz mentioned that the federal budget, which is set to be unveiled at the end of March, could bump up the forecast.
Although the current news was expected by most economists, a select few still believe we may even see a rate cut down to 0.25%. The Canadian dollar reacted positively to the news, gaining traction and increasing to 75.59 cents.