How Co-Ownership Could Get You Closer to Your Own Home
Date Posted: September 15, 2022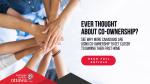 From the outside looking in, a mixer on a balmy evening in mid-June in a trendy downtown Toronto neighbourhood appears to be a social event like any other. Drinks are flowing and the conversations are too. But this one has a specific purpose: to help people who are interested in buying a primary residence with others, including strangers.
"Co-ownership seems to be on everyone's mind," Parimal Gosai, one of the event's hosts, tells Global News. "Housing prices are increasing, inflation and gas prices too. People's incomes have not met those increases for a long time."
Proponents of co-owning say the unaffordability crisis plaguing Canada's most expensive housing markets has driven a surge of interest in shared ownership. What used to be a fairly niche endeavour is now becoming more commonplace as evidenced by new mortgage products and services designed specifically for multiple co-owners.
Gosai and his co-founder Lesli Gaynor created a digital matchmaking platform called Husmates, which launched in December of last year. It's designed to connect people looking to co-own property together in the Greater Toronto Area. "It's like Bumble, Hinge or Tinder for real estate. It's not a romantic dating app. It's strictly for owning property together," he explains.
"We understand that this is not utopia. We know there will be issues. But the idea is that we use design to make it intentional so you're not just piling on top of one another," he says.
The "housing crisis" is a major driver of recent and more widespread interest in co-living. "It's not exactly a new idea; people have been doing it for years in different cultures. But what we're doing is trying to bring that age-old idea into a downtown North American concept."
For more information, contact your broker.
To read the full article click here.